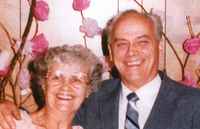 Anne W. Scott
March 26, 1922
-
November 15, 2010
Obituary
TOGETHER AGAIN
Anne W. Scott 88 died, Monday, November 15, 2010 at, Concord Care Center. She was born, March 26, 1922, in Barow-in-Furness, Lancashire, England, a daughter of the late William Henry Ward and the late Ethel Maude Underwood
Anne was a graduate of Warren G. Harding High School. She retired from Packard Electric, after working there 32 years. She enjoyed square dancing, gardening, and she was a seamstress
Anne is survived by two sons, Robert Johnson of Indianapolis, Indiana, and Russell Johnson of Flower Mound, Texas, one stepdaughter, Debbie & Arthur Tracy of Bristolville, Ohio, one stepson, Tim & Linda Scott of Mapleshade, New Jersey. She has five grandchildren, Matt, Kelley, Bryan, Kim and Steve, and seven great grandchildren. Preceding her in death were her husband Freeman Scott, who she married December 23, 1978 and preceded her in death on October 19, 2009, and 13 brothers and sisters.
Services will be held at 11:00 AM on Thursday, November 18, 2010 at the Carl W. Hall Funeral Home. Friends may call one hour before the service. Burial will be in Meadow Brook Memorial Park in Warren.
In lieu of flowers, the family requests that material contributions be made to the Alzheimer's Association in her memory.