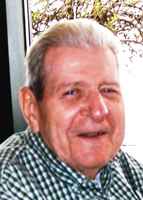 Arthur C. Fiorio
April 21, 1921
-
September 7, 2011
Obituary
Arthur C. Fiorio, 90 years old, of Warren, Ohio, died Wednesday, September 7, 2011 at 6:55 AM at Gillette Nursing Home.
He was born April 21, 1921 in Norfolk, VA, the son of the late Camille and Mamie A. Priest Fiorio, Sr..
Mr. Fiorio was an accountant and theatre manager for Warner Brothers and he was an avid reader.
Arthur was an honorably discharged Sargent in the US Army/Air Corp during WWII.
Survivors include his daughter, Barbara (Butch) Oliver of Theodore, AL; one grandson, Beau (Meredith) Oliver of Annapolis, Maryland; two great grandchildren, Anna & Grant; one niece, Patricia Griffin of Warren; two nephews, Ronald (Judy) Elliott of Warren and James R. (Cathy) Martin of Dublin and two great nieces, Marisa and Stephanie.
There will not be any services or calling hours and the Carl W. Hall Funeral Home has been entrusted with the arrangements.
Mr. Fiorio will be laid to rest in Rest Haven Cemetery in Hagerstown, MD.