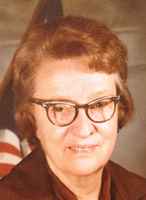 Beverly C. Boggs
November 30, 1917
-
September 24, 2010
Obituary
Beverly C. Boggs, 92, died Friday, September 24, 2010 at her residence. She was born November 30, 1917 in Worthington, KY, a daughter of the late Grover T. Creech and the late Lucy Sparks Creech.
Beverly graduated from Morehead State University and attended Youngstown State University. She worked as a school teacher for the LaBrae school system, and upon retirement also worked as a secretary at Niles Roll Service, where she worked with her son.
Beverly had a heart of gold and was very charitible to many different organizations in need. One thing she will be most remembered for is her crocheting, especially baby blankets. Once she had a collection of the blankets completed, she could be seen at Trumbull Memorial Hospital passing them out to new mothers, as well as around the city at grocery stores or to new or expecting mothers on the street. She belonged to the Kentucky State Poetry Society & enjoyed writing poetry, and took painting classes at SCOPE, where she enjoyed both painting and photography. She also worked on jigsaw and crossword puzzles and looked forward to her weekly Sunday drive to the lake with her son.
Beverly is survived by her son, Timothy L. (Sherri C.) Boggs of Niles, and her grandson, Adam James of Warren. Preceding her in death were her parents, her husband, James H. Boggs, and her siblings, Captola Melvin, Margaret Bates, Betty Adams, Yetieve McMillian, and Thomas, Woodrow, Frederick, & Joseph Creech.
Private services were already held for Beverly. She was buried in Champion Township Cemetery next to her husband. Funeral arrangements were handled by the Carl W. Hall Funeral Home.
The family requests that material contributions be made to Believers Christian Fellowship in her memory.