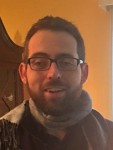 March 30, 1983
-
December 29, 2017
Born in Warren, Ohio
Resided in

Leavittsburg

,

Ohio
Obituary
Brenten James Faler, 34, of Leavittsburg, OH, lost his battle with his demons on December 29, 2017 at his home. He was born March 30, 1983 in Warren, OH, a son of the late Ronald Lee Faler and Karen (Bresnahan) Faler.

Brenten was a graduate of LaBrae High School, and attended YSU, studying english and literature. He worked as a Shipper at Carney Plastics. Brenten will be dearly missed by his many friends and family.

Left to cherish his memory is his mother, Karen Faler of Leavittsburg, OH, brother, Brian Zaboroskie of Caldwell, ID, niece and nephew Tierney and Bryant Zaboroskie, and paternal grandparents, Robert and Florence Faler. He was preceded in death by his father, Ronald Lee Faler, and maternal grandparents.

Per the families wishes there will be no service at this time.

The family requests that material contributions be made to The Warren Family Mission, in Brenten's memory.

"Grieving Mother"
The day my child died
I became somebody new
A totally different person
Someone I never knew

I am not who i used to be
I am definitely not the same
The only thing that hasn't changed
Is the spelling of my name

I cry more than i ever did
I break down quite a lot
My heart hurts everyday
The pain will never stop

A mother gives her child life
And a love unlike no other
When that is taken all away
She then becomes a grieving mother.
Charities
Warren Family Mission
155 Tod Ave. NW
Warren, OH USA 44485