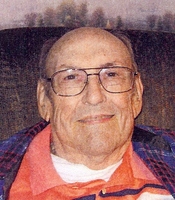 Charles G. Miller
March 27, 1929
-
March 17, 2011
Obituary
Charles G. Miller, 81 years old, of Warren, died, Thursday, March 17, 2011, at Community Skilled Care Centre. He was born March 27, 1929 in Johnstown, Pa. the son of the late George W. and Maude L. Miller . Charles married Mildred (Jerry) Stewart on January 17, 1953.
He was employed as a Custodian for Warren City Schools and retired in 1989.
He was a veteran of the US Army, serving in the Korean War where he received a Purple Heart.
Charles attended North Mar Christian and Missionary Alliance Church and enjoyed woodworking and traveling.
Surviving are his wife: Mildred (Jerry) Miller of Warren and a sister, Alice Novak of Johnstown, PA, . Charles was also survived by his great nieces, Caleigh and Colleen Calvey, whom he especially enjoyed. He was preceded in death by a brother, Robert F. Miller and sisters Betty Strayer and Jessie Ickes.
Services will be held at, Carl W. Hall Funeral Home on Saturday, March 19, 2011, at 12:00 Noon, friends may call 1 hour prior to service .
Interment will be in Crown Hill Burial Park.
In lieu of flowers, contributions may be made to ones favorite charity in his memory.