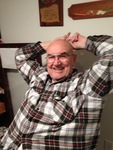 November 4, 1932
-
December 28, 2014
Resided in

Cortland

,

OH
Obituary
Ernest Lee Scott, 82, of Cortland, OH passed away, December 28, 2014 with his family at his side. He was born November 4, 1932 in Sutton, WV, son of the late Roy Cliven and Helena Ruth (Thayer) Scott. He married Nancy Elaine Montgomery on April 28, 1956 and shared 51 happy years of marriage until her passing in 2007.

Ernest was a graduate of Howland High School, and was employed as a mail carrier, and retired as the Postmaster of the Cortland Post Office. He also worked at Prudential Insurance and Kauffman Distribution Center. In earlier years he was also a house painter, bouncer, and antennae installer for Terlecky's TV Service.

As a child he learned to shoot a rifle from his father to allow him to go hunting with "The Men". These perfected skills he carried over into his military career and received many marksmanship awards.

He was a veteran of the United States Army having served during the Korean War. His first assignment was with the Heavy Mortar Co. 145 Infantry Regiment, the 37th Infantry Division. He was honorably discharged from the Army and re-enlisted with the National Guard. He was deployed to Germany with the 4th Engineer Combat Batallion "The IVY Leaves". After 4 years of service he was assigned to the Ohio National Guard, Co. A. Second Special Forces Group (Airborne). By 1955 he became a commissioned Second Lieutenant in the Army Reserve. In 1968 after completing Parachute Jump training, and serving in various other assignments, he was promoted to Captain of the Army Reserve Special Forces Unit. In 1976, Ernest retired from the military with over 34 years of devoted service. He received many awards and commendations throughout his years for his outstanding leadership skills.

Ernest came to know the Lord as a young man, and served the Lord all his life. He attended the Fowler United Methodist Church and Warren Baptist Temple. To quote a dear friend, "Ernie was everything God wanted a man to be".
He was a member of the American Legion Post 278 in earlier years and then Post 540 of Cortland, where he was a Certified member of the American Legion Funeral Detail, National 4th Infantry (IVY) Division, 37th Infantry Division Veterans Association, US Army Special Forces (Airborne), Veterans of Foreign Wars Lifetime member, Disabled American Veterans, and La Société Des 40 Hommes Et 8 Chevaux, (40&8), as well as the 1877 Cleveland Cavalry A 107-B.
Ernest was very involved with multiple Masonic orders, Carroll F. Clapp. Lodge No. 655 F. & A.M. where he was a 32nd Degree Mason and Past Master, York Rite lodges; Grand Council Royal and Select Masons Warren Council #58, The Grand Chapter of Royal Arch Masons of Ohio Chapter 10, and Sir Knight of the Knights Templar of Warren Commandery No. 39., and the Ancient and Accepted Scottish Rite. He was a benefactor of Hillsdale College, Wounded Warrior Project, and supported the NRA "Stand and Fight" Golden Eagles, and a lifetime NRA "Freedom Through Strength" member. He volunteered his time with the Cortland Lions Club, Meals on Wheels, and VA Voluntary Services.
In his free time he loved to work in his yard, building rock walls and planting flowers. Ernie enjoyed watching westerns and old black and white movies starring John Wayne. "Lonesome Dove" was a favorite movie. Ernie was an animal lover and cherished his black lab "Stewy". He loved to travel across America with "Uncle Bud", visiting national parks, and family and old friends along the way. Every opportunity to stop at a military museum or memorial was not missed. "Uncle Bud" and Ernie loved to tell their stories from all their adventures. He was a devoted husband, loving father and grandfather, and will be dearly missed.

Left to cherish his memories are his daughters; Elane (Tom) Sheridan of Fort Lauderdale, FL, and Tammy Scott of Stow, OH, Life long friend who was like a brother, Homer "Uncle Bud" Pountious, friends, Jim Barbe, Steve Santha, grandsons, Tom Sheridan Jr., Brian Sheridan, Benjamin Tolson, great-granddaughter, Kaila Sheridan, as well as many friends who's lives he touched. He was preceded in death by his parents, wife, daughter, Linda Sue Scott, grandson, Connor Bishop, close friend William D. Garghill, and his "special lady friend" Liz Doing who brought great joy and love to his life in later years, and who was dearly loved by his family.

Services will be held at 1:00 pm on Saturday, January 3, 2015 at Carl W. Hall Funeral Home, 533 North Park Ave. Warren, OH 44481, where Pastor Jim Dittmar will officiate. Friends may call from 4:00 pm to 7:00 pm with a Masonic service at 6:45 PM on January 2, 2015 at the funeral home, as well as from 12:00 PM to 1:00 PM on Saturday. Interment will be in Western Reserve National Cemetery, Rittman, OH on Monday January 5, 2015.

The family requests that in lieu of flowers, donations can be made in his memory to the Wounded Warrior Project, or The Warren Family Mission 2671 Youngstown Rd. Warren, OH 44483.

It would be Ernest's request to "carry on in all the finest traditions".
Services
Visitation
Carl W. Hall Funeral Home
533 North Park Avenue
Warren
,
OH
USA
44481
Service
Carl W. Hall Funeral Home
533 North Park Ave.
Warren
,
OH
Cemetery
Western Reserve National Cemetery