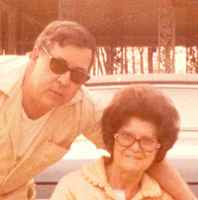 Frederick Robert Castle
December 3, 1923
-
October 25, 2012
Obituary
Together Again:
Frederick Robert Castle, 88, of Warren, died Thursday October 25, at St. Joseph Health Center.
He was born December 3, 1923 in Geneva, Ohio the son of the late Clarence and Anna Stewart Castle.
He married Geraldine Mayhew on August 11, 1948.
Frederick was honorably discharged as a First Class Chief Petty Officer, having served with the U.S. Navy during WW II and served as a Gunner Mate.
He was employed at Republic Steel 39 years as a Crane Operator and
enjoyed reading, watching football games and spending time with his grandson and his family and his pet dogs.
He is survived by his daughter, Jo Ann (Lewis) Merwin of Warren, sister, Irene Simon of Boardman, and his grandson Robert Steventon of Austintown.
He is also survived by several nieces and nephews.
He is preceded in death by his parents, wife Geraldine Castle in March of 1977 and brother Raymond M. Castle.
Calling hours will be held at Carl W. Hall Funeral Home Tuesday, October 30, from 11:00 AM. to 1:00 PM. and funeral to follow at 1:00 PM.
with Pastor William Carter officiating.
Entombment will be in Pineview Memorial Park.