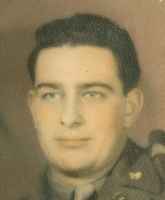 Howard Earl Boggess
August 25, 1926
-
April 5, 2012
Obituary
Howard Earl Boggess, age 85, of Champion, Ohio, died April 5, 2012 at Trumbull Memorial Hospital at 12:51 PM.
He was born August 25, 1926 in Lumberport, WV, the son of the late Edward and Eartie Dye Boggess.
Howard was retired after 30 years of service in 1982 from Packard Electric, his last job there was a receiving clerk. Some of his hobbies were golfing, fishing, bowling and camping. He was a avid sports fan of the WV Mountaineers football and basketball. However, his greatest enjoyment was being with his family. Mr. Boggess was also a member of the American Legion post #278 in Warren.
Mr. Boggess was an honorably discharged US Army Veteran of WWII.
Survivors include his wife the former, Alice Marie Rice, whom he married on April 17, 1948; his children, Stephen E. (Deanna) Boggess of Cortland, Mark W. (Arlene) Boggess of West Farmington, Kevin H. Boggess of Warren and Kimberly M. (Timothy) Bradac of Champion; nine grandchildren, Kristine (Ned) Agel, Maghan Maloy, Stephanie, Kaitlin, Mark H., Nicole, Alyssa Boggess, David Flask and Michael Bradac and eight great grandchildren and his brother-in-law, Charles "Bud" Johnson of Lumberport, WV.
Other than his parents, Howard was preceded in death by his granddaughter, Diane Boggess, and two siblings, Ronald Boggess and Jean Johnson.
Funeral services were private and were held at 11:00 AM, Tuesday, April 10, 2012 at the Carl W. Hall Funeral Home, where Pastor Clifford Carpenter celebrated Howard's life.
Entombment was in Crown Hill Burial Park, Vienna, Ohio.