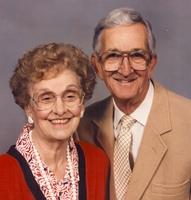 James G. Montecalvo Sr.
July 19, 1919
-
September 20, 2010
Obituary
James G. Montecalvo, Sr., of Warren, Ohio, passed away, September 20, 2010, in the company of his family, whom he cherished so very much.
He was born in Warren, Ohio on July 19, 1919 and was the son of Nicola and Portia Ianizzaro Montecalvo. He married the love of his life, Isabel G. Ruscitti on October 29, 1942, she preceded him in death December 17, 2006.
Jim was a founding member of St. Pius X Catholic Church, on Moncrest NW in Warren. He was the church historian, he sang in the original men's choir and was the past president and past treasurer of the St. Vincent de Paul Society; Trumbull County Deanery.
Jim was a dry cleaner, by trade, and partner and co-owner of Rogers-Cetrone Dry Cleaner on North Park Avenue for many years and a partner with Jerry T. Ruggieri.
He graduated in the June 1937 class of Warren G. Harding High School. His hobbies were golfing, furniture refinishing and working crossword puzzles. He did have a "hole-in-one" at the Sugarbush Golf Course in Garrettsville, Ohio, in October of 1984.
James is survived by a daughter, Donna (Bob) Kent of Souix Falls, SD; a son, James, Jr. (Jacqueline) of Cortland; four grandchildren, Matthew of Cleveland, Benjamin of Green Bay, WI, Jason Kent (Alise) of Warren and Michelle (Paul) Lester of Columbia, SC. He also is survived by three great-grandchildren, Alexis Lester of Columbia, SC and Isabella Kent and Michael Kent both of Warren; two sisters, Regina Canzonetta and Theresa Verbosky both of Warren; and one brother, Carmen of Warren.
Four brothers, Joseph, Patsy, Nick, Jr. and Frank Montecalvo and three sisters, Lena Kershner, Mary Puppillo and Antonette Sicuro, passed away many years ago.
A Mass of Christian Burial will be held at St. Pius X Catholic Church, by the former Pastor, Rev. Fr. Thomas C. Cebula of St. Barbara Parish in Massilon, Ohio and Rev. Fr. William Loveless, Pastor of St. Pius X Catholic Church in Warren, at 12:00 PM on Friday, September 24, 2010. Family and friends may visit at the church from 10:00 AM to 12 Noon, two hours prior to the Mass.
Burial will take place at All Souls Cemetery and memorial contributions will be taken by the bereavement committee of St. Pius X Catholic Church.