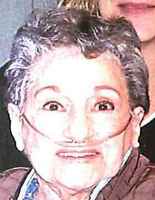 Katherine Maureen Honabach
Katherine
Maureen
Honabach
January 5, 1924
-
October 7, 2009
Obituary
Katherine Maureen  Honabach 85 died, Wednesday, October 7, 2009 at her residence in Windham. She was born January 5, 1924, in Brooklyn, NY, the daughter of the late Vincent and the late Irene Cresty Aquilla.
Katherine worked for Chrysler for over 20 years. She was a member of St. Michaels Church in Windham. Katherine is survived by a son, Bruce  Honabach of Washington, two daughters, Peg Honabach of Champion, and  Jean Wooldridge of Howland.  She has 13 grandchildren, 18 1/2 great grandchildren, 2 great great grandchildren. Preceding her in death were her husband, Miles, whom she married August 28, 1941 and who passed away on 6/6/1985; her parents, a daughter, Donna Honabach, two sons, Miles and James, and 2 brothers and 2 sisters .
Funeral arrangements are being handled by Carl W. Hall Funeral Home. There will not be any calling hours, but the family will hold a celebration of Katherine's Life Sunday October 11, 2009 at 1:00 PM at Katherines's  Home.