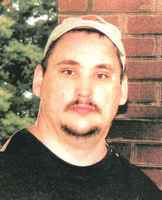 Larry D. Swiger II
January 8, 1973
-
June 8, 2012
Obituary
Larry D. Swiger, II, age 39, of Warren, Ohio, died June 8, 2012 at 1:10 AM at his home after suffering a massive heart attack.
He was born January 8, 1973 in Clarksburg, WV, the son of Larry D. Swiger, I of Lumberport, West Virginia and Mary Bragg Swiger Grodesky of Warren, Ohio.
Larry was a member of the Warren Baptist Temple. He enjoyed fishing and watching wrestling on TV.
Other than his parents, Larry is survived by his wife, the former Eva Banks, whom he married on October 9, 2008; step-mother, Cheryl Swiger; his children, Jeremy Henderson of Port Richey, FL, Shiane Swiger at home, Austin David Swiger and Jenna Swiger both of Struthers; one step-son, Daniel Banks of Brookfield; his siblings, Tammy Clendenin of Warren and Richard Swiger of Lumberport, WV; paternal grandmother, Maybelle Swiger of Salem, WV and maternal grandmother, Madeline Bragg of Cortland; several aunts, uncles, nieces, nephews and cousins also survive.
Larry was preceded in death by his step-father, Richard Grodesky and his grandfathers, Floyd Swiger and James Bragg.
Funeral services will be held at 11:00 AM, Thursday, June 14, 2012 at the Carl W. Hall Funeral Home, where Pastor Jim Dittmar will celebrate Larry's life.
Family and friends may visit at the funeral home on Wednesday, June 13, 2012 from 3:00 - 5:00 PM.
In lieu of flowers, material contributions may be given to the Warren Baptist Temple, 2093 Ewalt Avenue NE, Warren, Ohio 44483, in his memory.