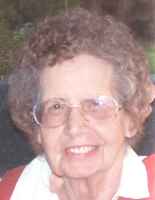 May 9, 1919
-
March 30, 2009
Obituary
Lois R. Mines, age 89, died Monday, March 30, 2009 at 6:32 PM at the Cleveland Clinic Foundation.
She was born May 9, 1919 in Waterford, PA, the daughter of the late Charles E. and Sylvia Turnbull Rohrbach.
Lois was a graduate of Howland High School and was retired clerk after 27 years from Packard Electric in 1974.
Mrs. Mines was a member of the Howland Community Church and the Morning Light Chapter #80 Eastern Star.
Lois is survived by her son, Thomas L. Mines and her daughter, Janice (Norman) Baxter all of Howland; five grandchildren and six great grandchildren.
Other than her parents, Lois was preceded in death by her husband, Delbert Mines, whom she married on December 28, 1940, he died on June 10, 1982; three sisters, Carol Canfield, Helen Johnson and Anne Sample and four brothers, George, Charles, Floyd and John Rohrbach.
Memorial services will take place at the Howland Community Church at 11:00 AM, Friday, April 3, 2009 where family and friends may visit one hour prior to the service. The Rev. Dr. Brian Byrne will officiate the service. Burial will be in Howland Township Cemetery, Howland, Ohio.
Material contributions are requested to be made to the Howland Community Church, 198 Niles-Cortland Road SE, Warren, Ohio 44484, in her memory.
Arrangements have been entrusted to the care of the Carl W. Hall Funeral Home.