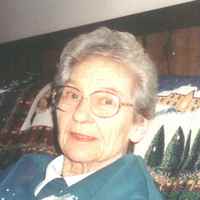 Marilyn M. Measures
July 25, 1922
-
February 10, 2011
Obituary
Marilyn M. Measures, age 88, of Warren, Ohio, died Thursday, February 10, 2011 at 10:25 AM at the Community Skilled Nursing Centre.
She was born, July 25, 1922, in Blissfield, Michigan, the daughter of  the late Justin Jay and Mary Jacob Roback.
Mrs. Measures was a homemaker and enjoyed golfing and knitting.
Survivors include her children, Janet (Richard) Williams of Champion, Richard (Judith) Measures of Bishop, GA and Gary (Jana) Measures of Buffalo, NY; seven grandchildren, 17 great grandchildren and three great great grandchildren.
Preceding her in death was her husband, Lawrence Measures on April 15, 1991; four brothers and one sister.
Funeral services will be held at the Carl W. Hall Funeral Home at 1:00 PM, Saturday, February 12, 2011 where Pastor Tony Graffam will celebrate her life.
Family and friends may visit the funeral home from 6-8 PM, Friday, February 11, 2011.
Burial will be in Meadow Brook Memorial Park, Champion, Ohio.