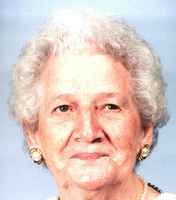 Clara B. Reid
May 14, 1906
-
March 18, 2010
Obituary
Clara B. Reid, 103, formerly of Orrville and Steubenville, Ohio, died at 6:40 PM on Thursday, March 18, 2010 at Windsor House of Champion. She was born May 14, 1906, in Wayne County, Marshallville, Ohio, a daughter of the late Gottlieb Butzer and the late Rosina Shindler Butzer. Clara married Thomas Ray Reid on December 24, 1925 and he preceded her in death in July of 1968.
Clara was a homemaker. She was a member of the Nazarene Church where she was church treasurer & Sunday School teacher for many years. She enjoyed playing the piano & Accordion / squeeze box. She was also an avid Cleveland Indians baseball fan and could name all the players until she was 95 years old. Clara could yodel and the staff at Windsor House were always asking her to do so. She was a good baseball player, runner and croquette player. She worked hard all her life, had physical strength and kept a meticulous house.
Together Clara and Thomas raised 8 children. Surviving are sons, Wayland Reid of North Canton, OH, Richard (Colleen) Reid of Marietta, OH, and Thomas Reid of Houston, TX, daughter, Saundra (Pastor Bill) Sprague of Champion, OH, with whom she previously made her home, daughters-in-law, Mildred and Edna Reid and son-in-law, Les Cain, she also has 24 grandchildren, 37 great grandchildren and 11 great great grandchildren.
Preceding her in death were her parents, her husband, two sons, Ivan and Ray and two daughters, Cleora Cain and Enid George,one grandchild and one great grandchild, brothers, Gottlieb, Charles, Amos, and Daniel Butzer, sisters, Rosa Yungen, Anna Clapper, Ida Frase, Alice Weeman, and Emma Kelbly, half-brothers, Cletis and George Butzer, half-sister, Fern Hamilton, and a daughter-in-law, June Reid, the wife of Wayland Reid.
Funeral Services will be held at 1:00 PM on Sunday at the Carl W. Hall Funeral Home, where Pastor Bill Sprague will officiate. The family will receive friends one hour prior to the service. Burial will be in Plain Township Cemetery in Plain Twp., Ohio.