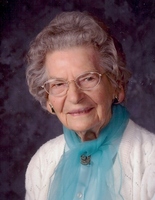 Clara R. Reibel
July 29, 1911
-
May 6, 2012
Obituary
Clara R. (Smith) Reibel, 100 of Bristolville, Ohio passed away Sunday afternoon at Lake Vista nursing home where she was a resident.
Clara was born July 29, 1911 in Smoke Run, PA daughter of the late Andrew and Verna Kitko Smith. She came to Bristolville in 1929. On September 6, 1930 she married Herman "Herm" Reibel (they were married 65 years). Clara was a member of Bristolville United Methodist Church since 1952 and a member of Alpha Chapter #44 O.E.S. since 1931, serving as Worthy Matron and other offices. She was also a member of Scope of West Farmington.
Clara was a homemaker who enjoyed gardening, flowers, crafts, puzzles, reading and traveling with her husband (they spent many winters in Florida). She especially enjoyed being with her family, the grandchildren, great grandchildren, great great grandchildren, and a host of many friends. Clara was like a fingerprint, leaving her mark with everyone she came in contact with. Throughout her life time she took pride in making holiday dinners that was always served on a hot plate and complimented with homemade ice cream and strawberry jam.
Her parents, two sisters (Mary & Verna), three brothers (John, Mike & Joe), two son-in-laws (Bill Stanford & Russell King) and her husband Herm Reibel, who died December 25, 1994, preceded her in death.
She is survived by her daughters Carol Jean Stanford of Palmetto, Florida and Marlene (Tom) King~Hillman, grandchildren David (Linda) Stanford, Terry Stanford, Susan Whorten, Scott (Linda) King, Rex (Mary) King, Michele (Jim) Pierce, Thomas (Keeley) Hillman. Twelve great grandchildren, William (Sarah) Stanford, Robert (Amy) Stanford, Russell (Ashley~ Fiance')King, Rex King Jr., Paige King, Carie Whorton, Katlyn Whorten, Brandon (Jen~ Fiance')Williams, Michael Hillman, Kayla Hillman, Jill Halstead, Kate Wellman. Three great-great grandchildren, Alex Stanford, William Stanford, & Karston King.
In Lieu of flowers the family request donations be made to Bristol United Methodist Church.
Calling Hours will be held at 11:00am on Friday May 11, 2012, followed by a memorial service at noon and a celebration of her life with dinner at Bristol United Methodist Church, 6251 Park Dr., (Corner of Rt.45 & Rt.88) Bristolville, Ohio 44402
Arrangements were entrusted to the care of the Carl W. Hall Funeral Home.